Lots of congratulations to Libby Bateman, who was at the House of Lords this afternoon to pick up her £5000 prize for winning  TalkTalk's North West Digital Hero award 2011.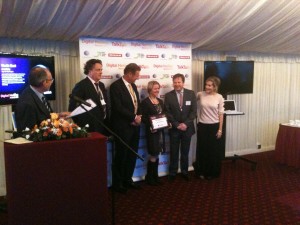 Libby Bateman with Charles Dunstone, chairman of Talk Talk, Martha Lane-Fox, UK Digital champion, and others at the House of Lords.
She beat two other nominees to win the prize. She sadly missed out on the national prize of £10,000 but will come back to Cumbria with £5000 for the East Cumbria Community Broadband Forum.
In case you missed them, here are the articles about Libby in the Westmorland Gazette and the News & Star.
Well done Libby!