Tell us what you think of the Eden Declaration!
17:09 in News by Louis Mosley
On 6 November, 150 activists gathered in the village hall of Great Asby in the Eden Valley. They had come from a hundred different villages by a hundred different paths. Those 150 were the leaders in a broadband movement which is part community experiment and part constitutional revolution: they are building the Big Society and the best superfast broadband in Europe.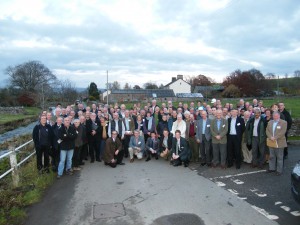 Broadband Champions, Great Asby, 6 November 2010 (click to enlarge)
The Eden Declaration is the product of that event. To join the discussion about its content, create an account. What should we add? What should we take away? What more could we do? Make your voice heard!
But there's lots more to discover on this site.
You can learn about many of the amazing benefits of high speed broadband. If you're confused by the jargon, take a look at our broadband glossary, co-written by dozens of volunteers from all over Cumbria in a fantastic example of community action. If you want a quick primer on broadband, check out our Basics page. And don't forget to create an account or browse the existing groups, members, and discussions.
The campaign page gives a potted account of the journey so far. The Eden Declaration lays out where we want to go.
But to get there, we need you!
So, please create an account, sign the the Eden Declaration, and join the swelling ranks of Cumbria's broadband champions.
150 champions gathered at Great Asby. Spread the word about this website to your friends and neighbours, so that next time we make it 250!