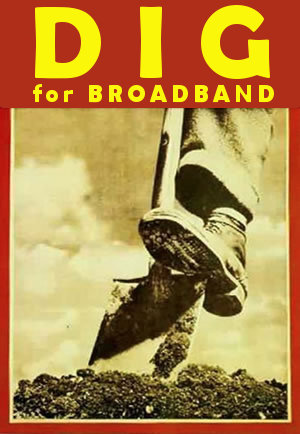 Below is a draft broadband champion's job description and a quick guide to becoming your local champion. Join the discussion to let us know what you think!
Skills
Broadband champions don't need to be technically savvy, but they do need to have time, energy, and a strong desire to improve the economic and social well-being of their parish.
They do need to believe that Internet access is as indispensable to modern life as access to electricity and running water.
Responsibilities
The champion's main responsibility is to raise awareness of the social and economic benefits of broadband. Each champion will know how best to go about this in their parish, but their local campaign may involve:
♦ Distributing information about broadband
♦ Organising local events about broadband
♦ Talking to local clubs and interest groups about broadband
♦ Overseeing their parish website
Broadband champions are also responsible for collecting information about broadband availability and Internet use in their parish. Broadband champion are in charge of their local survey and their parish's 'broadband map'.
Other important info
Many broadband champions are also their parish's Digital Neighbour.
This means that they help those in their parish who've never used the Internet or who aren't confident on the web to get online and improve their digital skills.
In parishes that decide to set up their own access network (either alone or alongside neighbouring parishes), it will usually be the parish broadband champion who leads the project on behalf of the Parish Council.
There is no limit to the number of broadband champions in a parish.
It's also recommended that broadband champions get themselves appointed as such by their parish council. To find out more about this click here.