Superfast broadband could transform access to health and social care in Cumbria. Imagine being able to consult a specialist over video link from your home or GP surgery, rather than having to drive to Carlisle or even Newcastle. Imagine having equipment which helps you to manage a chronic disease like COPD or diabetes from your home with constant medical support. Imagine the elderly or vulnerable being able to live independently for longer with the peace of mind provided by home alert systems linked directly to a carer or family member.
Telecare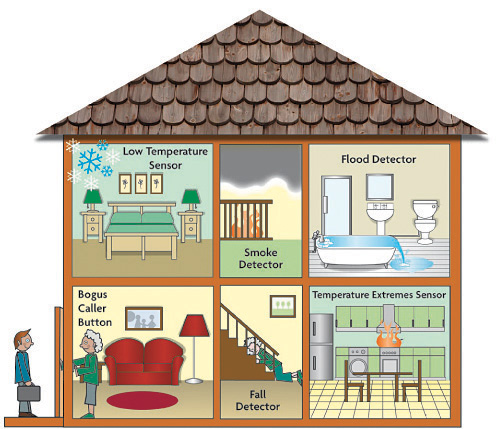 Many people dream of being able to spend their old age living independently in their own home. Telecare services using home broadband access and a combination of alarms, sensors and other equipment will help elderly or vulnerable people live independently for longer.  Telecare is not intended to replace human contact but is designed to support carers and people living alone. For instance, a bed occupancy sensor can be used to monitor when a person gets out of bed at night. If they do not return within a certain period, an alarm is raised in case they have fallen. The alarm will alert designated carers, who can then call or come round to check the person is OK.  The bed sensor can be combined with an automatic light sensor so that when the person gets out of bed the light turns on and allows them to immediately see where they are going. Other alarms can call for help in emergency situations, such as a gas leak, a fire or a flood.
Coming soon!

Telehealth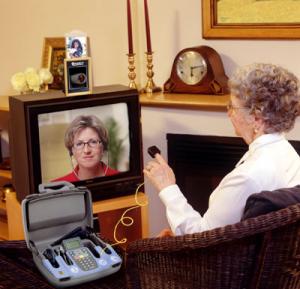 The combination of broadband access and home monitoring systems can be life changing for people with chronic conditions like heart disease, diabetes, high blood pressure and COPD - providing peace of mind, avoiding frequent visits to the surgery and reducing the number of 'acute' or crisis episodes that mean having to go into hospital.
Telehealth equipment installed in the patient's home can be used to measure vital signs such as blood pressure, blood oxygen levels or weight on a daily basis. These readings are then sent automatically to a doctor or nurse who can monitor them without the patient having to leave their home - watching for changes in condition over time, as well any signs the patient needs immediate medical attention. They can also use the readings to give tailored advice about things like daily medication.
Telemedicine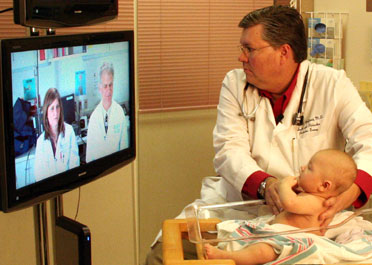 Telemedicine technology using broadband lets patients talk to hospital consultants over video link from their home or local GP surgery, allowing them to get specialist medical advice without having to make the journey to Carlisle or Newcastle.
Coming soon!