Broadband access can help increase your speed to market, expand your market reach and lower your costs. There are clear benefits for small businesses, for farming and for the tourist industry, among others.
Farming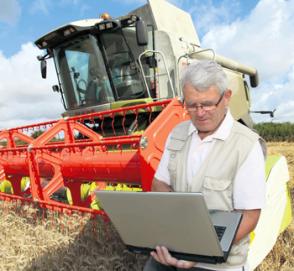 Apply for cattle passports online with minimal hassle.
Consult a local vet or national expert remotely using tele-vet services.
Cut security and maintenance costs by using webcams to monitor stock levels, garages, workshops and diesel tanks.
Case study: The James family are dairy and beef farmers in Cornwall who recently got a broadband connection. Patricia James, who deals with cattle passport applications, says "With our old dial up internet connection, it could take me a long time to do a batch of passports. The pages sometimes took ages to load up. Since we have had broadband, it rarely takes me ten minutes. I don't know how we managed without it."
Charles James commented "I have been able to make significant savings by purchasing supplies online from firms in other parts of the country. It is also very useful to be able to quickly access information on anything from new product developments to the latest milk quota prices. With broadband, the connection is permanently on, so with just one quick trip to the computer I can buy what I need or check something out."
Click here to read about the benefits broadband has had for other farmers
Small and medium enterprises - Save money by storing data and access business software services online instead of having to download and maintain them on your computer. This means you can have cheaper and simpler computers in your offices and access state-of-the-art services via your internet connection. It also means that if your computer gets lost or stolen all your data won't be lost as it is backed up online and you can access it instantly from another computer, giving you peace of mind. This approach is known as Cloud computing - learn more here.
Use the internet for research, or for marketing via social media - Twitter, Facebook etc. Use online tutorials to train your staff or help your customers? Use free internet calling services like Skype to slash your phone bills.
Tourism - Fast reliable broadband will allow accommodation providers to market themselves to potential clients all over the world, and free up staff time by using online booking systems rather than having to take bookings over the phone.
Broadband opens up non-traditional marketing techniques, from Twitter and Facebook to webcams which let potential guests check out the local scenery before they book.
Case study: Tim is a hotel owner who recently installed broadband. He says "Immediately, we experienced the benefits of being always online. Now we could respond to customers' email enquiries as soon as they came in, with a corresponding increase in booking levels. With broadband, it is also so much easier to update the websites, check out the competition and make use of industry portals such as www.laterooms.co.uk which need the very latest availability updates. Of course, we also now offer online booking linked directly to our computer in the hotel. The everyday running of the business and communications with customers are just so much easier – both for us and our customers." 
"All the hotel's systems can be used from anywhere with internet access. It no longer matters whether I am in the office, at home or hundreds of miles away. I recently arranged salary payments while on holiday, using a Wifi hotspot to access the system. The member of staff who is responsible for accounts will shortly be leaving for maternity leave. Using a broadband connection at home she can continue to handle the role while fitting the work around the demands of her new family. I frequently work from my home office several miles from the hotel, checking availability and making reservations from there. And we put the staff rotas on-line so that they can check their shifts without having to come in to the hotel. Through making full use of broadband to enable flexible working, we have freed up time and opened new doors that allow us to focus on growing the business, whilst not being tied to it."
The hotel also offers wireless broadband to guests in all the bedrooms and public areas. According to Tim "This is a strong part of our appeal to the business market and local residents come in to make use of the facility too. So broadband is helping the hotel in a whole raft of ways – increasing our appeal, underpinning our performance and even improving our work-life balance." 
Click here to read about the benefits broadband has had for other accommodation providers
Let us know what other ways broadband could help your business!